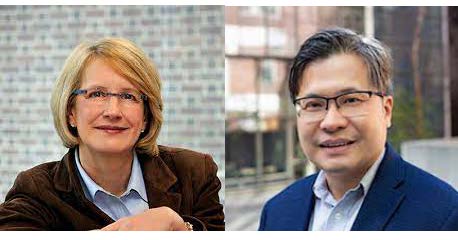 Professors Susan Davidson and Boon Thau Loo have been awarded the 2021 Ruth and Joel Spira Awards for Excellence in Teaching. Sponsored by the Spira co-founded Lutron Electronics in 2019, the award specifically recognizes outstanding faculty within the C.I.S. department at Penn, and has corresponding awards at universities across the country.
Susan Davidson
For Professor Davidson, the Spira Award is the first teaching award she has received in her nearly 40-year career.
"I think it's especially meaningful because it's difficult for women in STEM fields," said Davidson. "Women in STEM fields tend not to rate as highly as their counterparts, because of a certain amount of gender bias."
The Founder of SEAS' Advancing Women in Engineering (AWE) received her Spira Award "for her critical role in defining our initiatives in data science and databases, and especially for the outstanding job she has done teaching CIS 545 and 550," according to Department Chair Zack Ives.
Davidson says that it was Professor Loo who pushed her to revamp her CIS 550 (Introduction to Database and Information Systems), and reform it so it could become a part of the MCIT Online curriculum. Doing so required the course to be broken down into smaller, punchier segments: more frequent quizzes, a normally 90-minute lecture efficiently split into bite-sized, twelve-minute fragments.
"It was Boon who basically talked me into it, by saying how much it had improved his course," said Davidson. "The argument that he used was that his teaching ratings had jumped up quite a bit as a result of that."
Right in the middle of recording the different aspects of CIS 550, fine-tuning and taking a closer look at how to make it a more immersive experience for students, work-from-home was imposed due to COVID-19. Without knowing it, Professor Davidson was preparing for a complete online transition.
"That's the second reason I'm very thankful to Boon. he convinced me to do this and gave me the impetus to improve the course and, by doing so, I was very well prepared for the teaching during the pandemic," said Davidson. "I know the students really appreciated the quality of the recordings: that's recognition to the online MCIT staff and the program and how well they are able to produce or help us produce our lecture segments."
Boon Thau Loo
Professor Boon Thau Loo holds his colleague and fellow Spira Award winner in the highest regard as well.
"Anytime you got an opportunity to win an award with Susan that's a great honor," said Loo. "She's always the gold standard for me as far as being a good teacher, being very dedicated to teaching."
According to Professor Ives, the Associate Dean for SEAS Grad Programs "was recognized for his superb teaching and mentoring of students, both inside and beyond the classroom. Students praise his clarity of explanations, his passion and expertise, and his positivity."
Professor Loo serves as an inspiration for those with a calling to teach, but who must overcome personal obstacles in order to excel in that calling. He confesses that he did not start his career as an effective teacher: he is not naturally a good public speaker, and his initial Penn course student reviews were horrible.
"I remember my first CIS 505 was a complete disaster. I don't have a tremendous stage presence," said Loo. "As a clueless Assistant Professor, it took awhile for me to learn how to teach. I tried incorporate a more personal touch, get to know the students well."
Professor Loo's main classroom philosophies boil down to practicality: he emphasizes the importance of group work and communication, and insists a complete educational experience means getting your hands dirty.
"You cannot learn operating systems just by reading a textbook. Students have to learn by doing," said Loo. "I'm a big proponent of project-based learning. I don't think, especially in software systems, you can learn just in isolation, by reading a textbook or from PowerPoint."