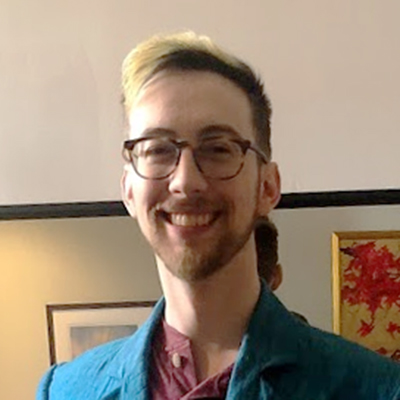 It seems the Computer and Information Science department is in the business of cultivating students so fulfilled with their undergraduate experience, that they return to take on leadership roles in C.I.S. Earlier in the year, former C.I.S. undergrad and Associate Professor Joseph Devietti stepped into the role of Undergrad Chair. Now Lecturer Adam Mally, who graduated from C.I.S. in the Digital Media Design (DMD) Program, is stepping into the role of undergrad DMD Director.
"I started off in what's now called the ESAP Summer Program, a summer program here at Penn Engineering were high school students can take a three-week long course in a particular subject," said Mally.
When he applied to college the following winter, the DMD Program at C.I.S. was the only application he filled out.
"I loved that combination of technicality with the creativity that this provides. I needed to do DMD: this was so much fun."
Currently, it's fair to say that DMD's biggest draw is gaming animation. Many, if not most, students join the program hoping to land jobs with large corporations within the games industry. Mally is excited to expand DMD's reach: working with newcomers Danaë Metaxa and Andrew Head, who are heading the incoming Penn HCI Group, is a top priority. There is much opportunity in the field of human computer interaction.
"So many DMDers go into the industry as technical directors or technical artists, where they're developing tools that their teammates need to work with," said Mally. "Pretty much any tool they developed needs to be usable by some other people and we don't cover that aspect of software development at all right now."
Mally is also planning to broaden the DMD curriculum to include a focus on medical visualization. He's hoping to work with new PIK Professor Kevin Johnson, who holds a joint appointment in both C.I.S. as well as the Department of Biostatistics, Epidemiology, and Informatics in the Perelman School of Medicine.
"It's a pretty big field that we're just not really getting too many people going through right now," said Mally. "Integrating into existing classes, or at least a particular existing class: a look at how computer graphics can be used in medicine to visualize, or pre-visualize in some cases, scan data. Or even how people use augmented reality or virtual reality to do medical training."
At the end of the day, Mally believes that the same things that lit his own DMD fire are essentially what will continue to attract new students year after year.
"They have a huge passion for for the creative aspects that DMD allows them to explore," said Mally. "I want people to have the knowledge to be able to make games, but I want people to have the tools, the skill set to be able to branch out on their own."