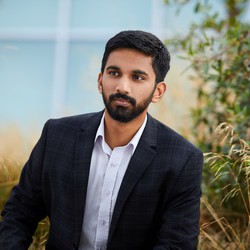 The international Conference on Robot Learning (CoRL) has accepted the renowned work of CIS and GRASP Lab Assistant Professor Dinesh Jayaraman.
According to their site, the "CoRL is a selective, single-track conference for robot learning research, covering a broad range of topics spanning robotics, ML and control, and including theory and applications." With an acceptance rate of 34% this year, the conference was able to increase their intake slightly due to the fact that it's taking place solely online. The call for 2020 submissions featured a variety of topics such as Imitation learning and (inverse) reinforcement learning, Bio-inspired learning and control and Multimodal perception, sensor fusion, and computer vision.
Jayaraman's paper, titled Model-Based Inverse Reinforcement Learning from Visual Demonstrations, was co-authored by Neha Das, Sarah Bechtle, Todor Davchev, Dinesh Jayaraman, Akshara Rai and Franziska Meie. All accepted papers are also published in the Journal of Machine Learning Research (JMLR) Workshop & Conference Proceedings series.
The fourth annual CoRL 2020, whose previous hosting sites include Osaka, Japan, Zurich, Switzerland and Mountain View, USA, will be held virtually from November 16 – 18.