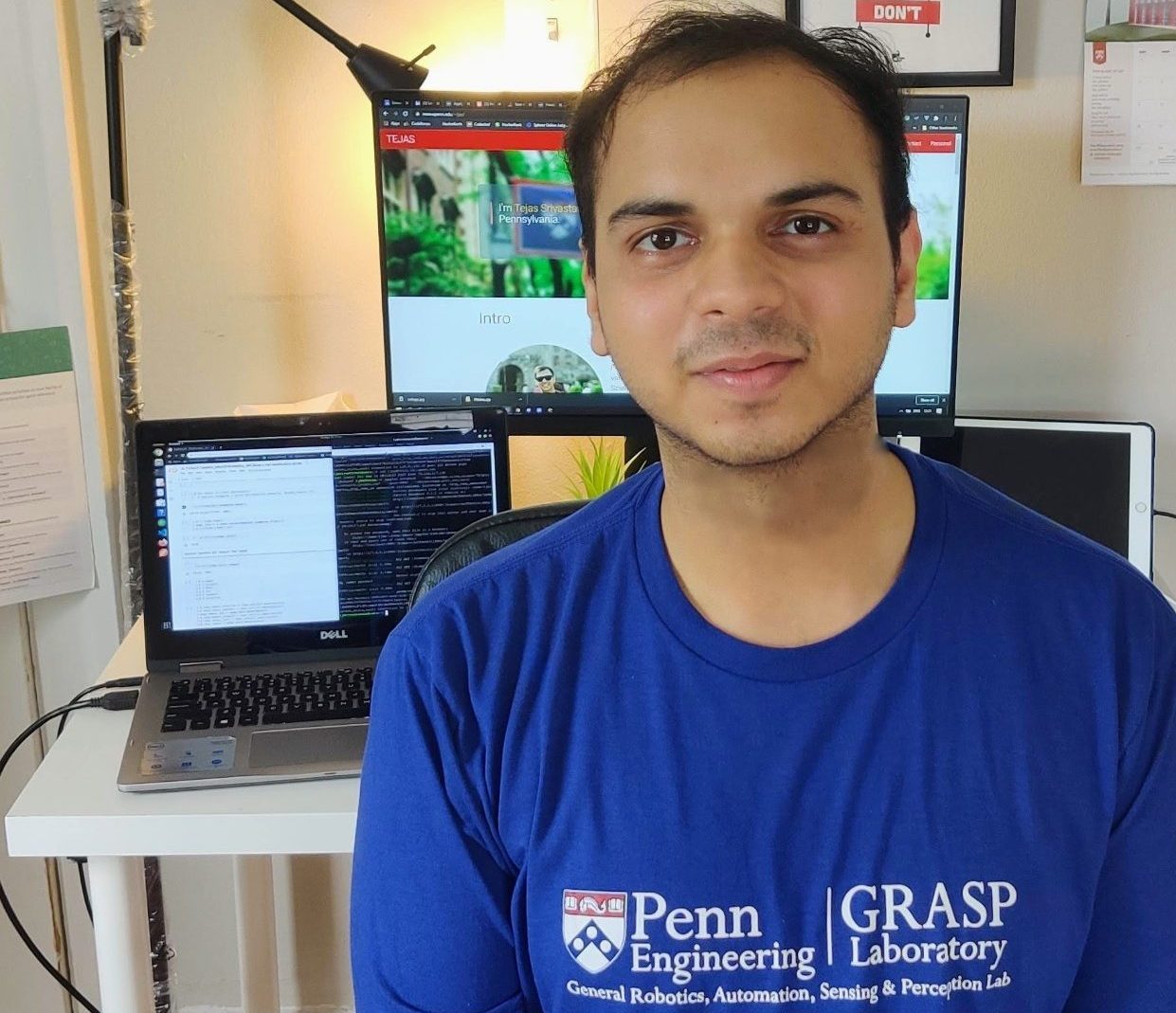 After receiving his Bachelor's degree in Computer Science Engineering back home at India's University of Pune, Tejas Srivastava chose to join the UPenn CIS family as a graduate student (c/o 2021). And we're so lucky to have him!
When Tejas is not listening to his favorite tech podcasts, or getting into a new workout routine, he's probably studying ways to better interpret the data of human emotion. Find out more about Tejas and his work with the World Well Being Project below.
---

What research/ projects are you currently working on?
As a research assistant under Prof. Lyle Ungar within the World Well Being Project, I am currently working on building a generalizable emotion-based lexicon from social media data by interpreting and inverting deep neural networks for text classification. I am also working on some mini projects such as building an online portfolio website to showcase my work, projects, experiences and learnings, and an app which shares select new photos from my phone and shares them with my parents and across devices (TV and tablet) back in India (still in progress). Apart from these projects, I am spending time revising some subjects and preparing for the upcoming recruitment season.
---
What has been keeping you grounded and healthy during the COVID-19 pandemic?
COVID-19 has sure propelled me to inculcate new habits and hobbies to maintain my well-being, one of the most significant ones being networking and talking to people. I have been spending time to talk to my parents daily and talking to friends back in India and fellow classmates at Penn and celebrating birthdays and other festivals virtually. I have also been attending a lot of virtual tech meetups hosted by Penn and communities in and around Philly and meeting new people with similar interests. I am also connecting with a lot of Penn Alumni, and talking to them about their experiences, and seeking general advice from them.

I spent some time redesigning my room and specifically my workplace, to create a welcoming and clean setup, knowing that I would have to spend a lot of time there.
Since the start of the pandemic, I have also started to cook a lot and spend more time in the kitchen and have tried a lot of new dishes, and enjoyed taking cooking breaks in between work. Very recently, I have also started basic workouts at home, and going on runs and walks (with proper precaution of course!) in and around Penn Park and Schuylkill River, exploring University City and some parts of Philly, in order to get some fresh air and compensate for my old regular walks to the campus from my apartment. Thus, I would say that the pandemic has given me a chance to pause, and re-evaluate myself, and with some time on hand, develop myself in a lot of ways.
---
What future research/ projects are you excited about?

Me along with my research group have made some progress on the lexicon building project, and I plan to continue to work on the same, as we are on the way to promising results. Apart from that I plan to take the distributed systems course in the upcoming semester, and am particularly excited to work on the course project, which includes building a fully-fledged distributed cloud platform from scratch.
---
Favorite culture intakes right now?

I recently started reading "The Slight Edge" by Jeff Olson, which talks about the philosophy of being successful by taking insignificant and simple decisions and actions, consistently over time, instead of waiting for or taking the one revolutionary move, and have been trying to test and implement the same. I also enjoy sometimes listening to podcasts while I workout and run, and specifically follow the Artificial Intelligence Podcast by Lex Fridman, and The ChangeLog podcast, where hosts interview hackers, leaders and innovators within software development and open source. I also indulge in some Bollywood music and occasional Prateek Kuhad (one of my favorite singers) songs while I run. Mostly on the weekends, I spend some free time watching videos on YouTube, following the latest in technology, and admire the works of MKBHD, Unbox Therapy, The Verge and many other tech Youtubers, and have also recently restarted watching "DeathNote," one of my favorite animes.