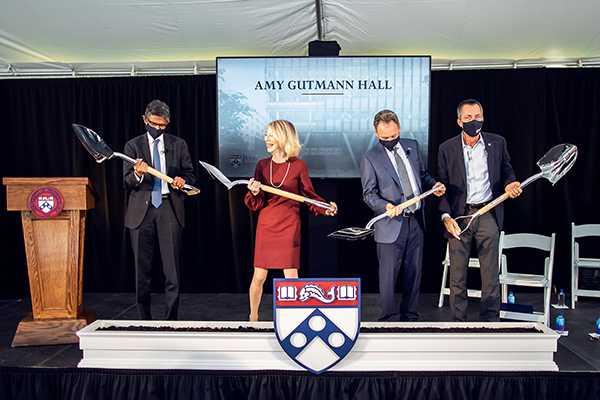 On Friday, October 1, 2021, the University of Pennsylvania's School of Engineering and Applied Science held a groundbreaking ceremony for its new data science building and unveiled the building's official name, Amy Gutmann Hall, honoring Penn's President. Amy Gutmann is the eighth and longest-serving President in Penn's history, leading the University since 2004; her term will conclude at the end of this academic year.
Amy Gutmann Hall will serve as a hub for cross-disciplinary collaborations that harness expertise, research, and data across Penn's 12 schools and numerous academic centers. Upon completion, it will centralize resources that will advance the work of scholars across a wide variety of fields while making the tools and concepts of data analysis more accessible to the entire Penn community.
"I am thrilled Penn Engineering's new data science building will honor Dr. Gutmann's remarkable legacy at Penn," said Vijay Kumar, the Nemirovsky Family Dean of Penn Engineering. "Her Penn Compact and the principles of inclusion, innovation, and impact influenced the school's strategic priorities from which the plan for a data science building emerged. This revolutionary new facility will create a centralized home for data science research and provide collaborative and accessible space for our faculty and students, as well as the Philadelphia community."
The 116,000-square-foot, six-floor building will be located at the northeast corner of 34th and Chestnut Streets. Planned academic features include a data science hub, the translational and outreach arm of Penn Engineering in the area of data science and artificial intelligence; research centers for new socially aware data science methodologies and novel, bio-inspired paradigms for computing; and laboratories that will develop data-driven, innovative approaches for safer and more cost-effective health care.
The impressive building is the design of executive architects Lake/Flato, with KSS Architects serving as associate architects. The building's architecture will signify the future and the dynamic shift from the traditional to the digital. The facility is planned to be the first mass timber building in Philadelphia and will be designed sustainably.
Construction will begin in spring 2022 and is slated for completion in 2024.
This article originally appears on the University of Pennsylvania Almanac site. To read the full article, click here.